photos courtesy of Jordan Matter
If you do not have a clear objective, you have no definition of winning.
If you do not have a clear strategy, you have no chance of winning.
If all you have are tactics, you have no right to win.
Sharing. Selling. Servicing.
By sharing, you are giving someone information that could completely change the way they see things.
By sharing, you have the power to help people understand themselves and the issues we face in our complicated world today.
By sharing, you also quickly learn things about yourself. Discovering the truth about ourselves is a lifetime of work. But, it's worth the effort.
It's crucial to surround yourself with like-minded people.
On this day, the objective was to promote the premiere of the television series, "Prison Break" for our client Sarah Wayne Callies (The Walking Dead, Prison Break)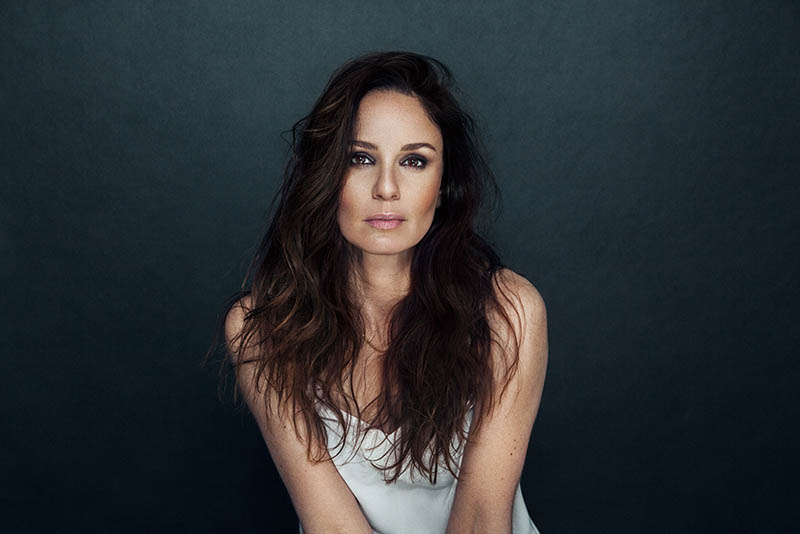 Caring
People don't care what you know until they know what you care. No one more cares more than my partner Erwin More who is brainstorming with producer Craig Flores (Indie Producer formerly of Voltage Pictures) about the television business.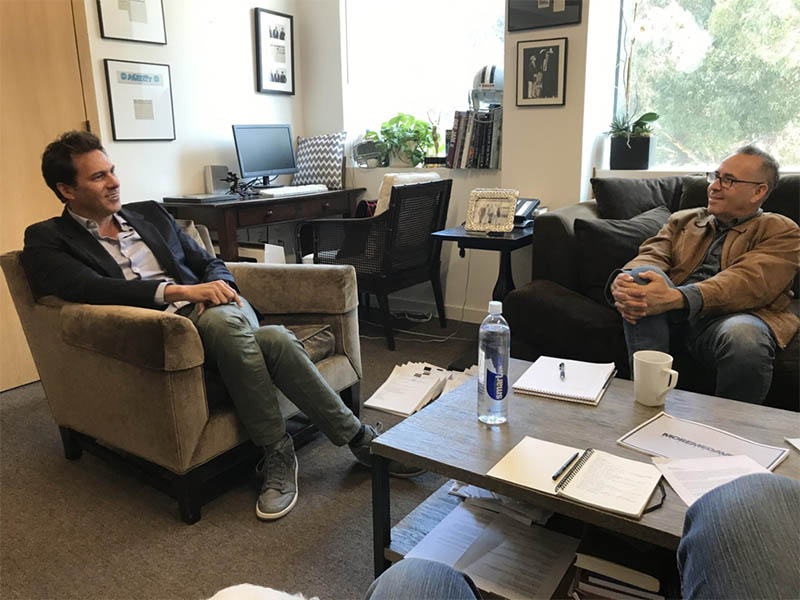 The Power of Collaboration
Any partnership will benefit from an enthusiastic commitment to build trust, communication, community and excitement (even though neither one of them appear to be excited!) You're only as good as those you associate with. Surround yourself with people that reflect who you want to be and how you want to feel, energies are contagious.
Erwin More and Alan Nevins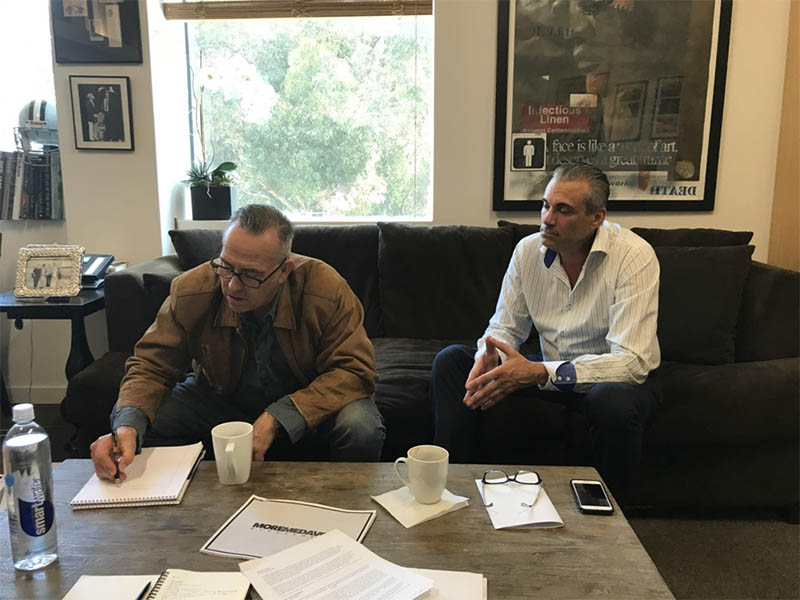 Berta Treitl (who handles Sarah's blogs and books) and Michael Davis who handles her social media.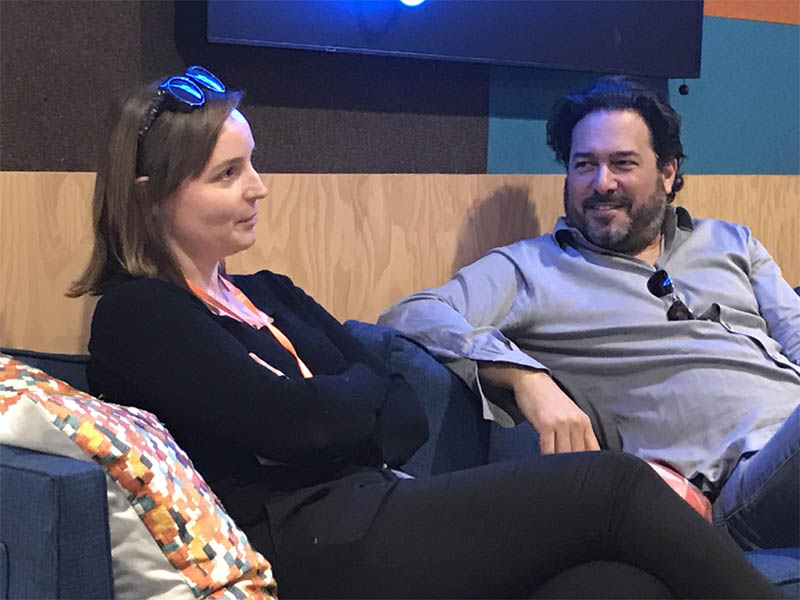 Manager Brian Medavoy and Michael Davis hanging out at Facebook Live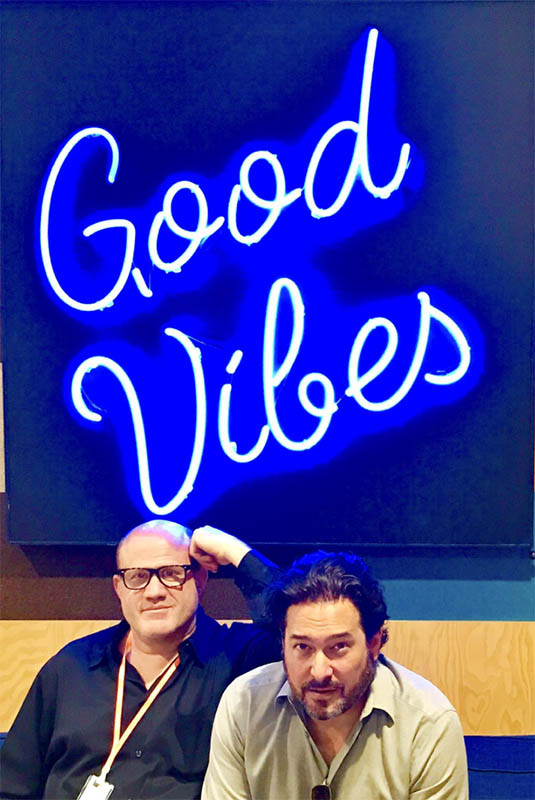 Sarah signing Facebook board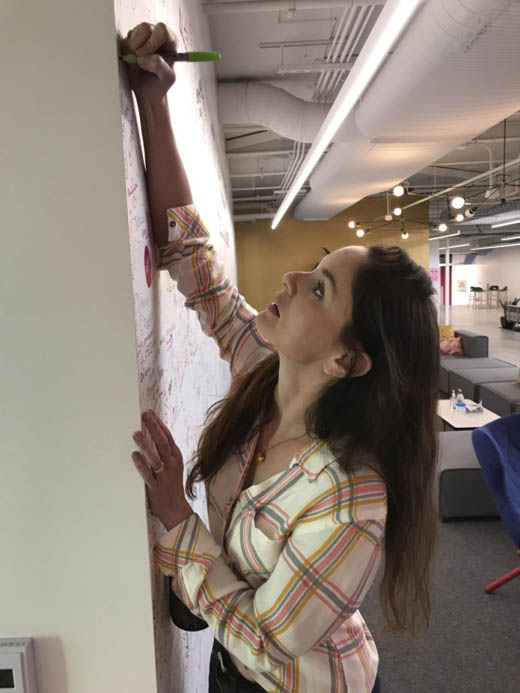 Erwin More, Sarah Wayne Callies, Mark Feuerstein & Brian Medavoy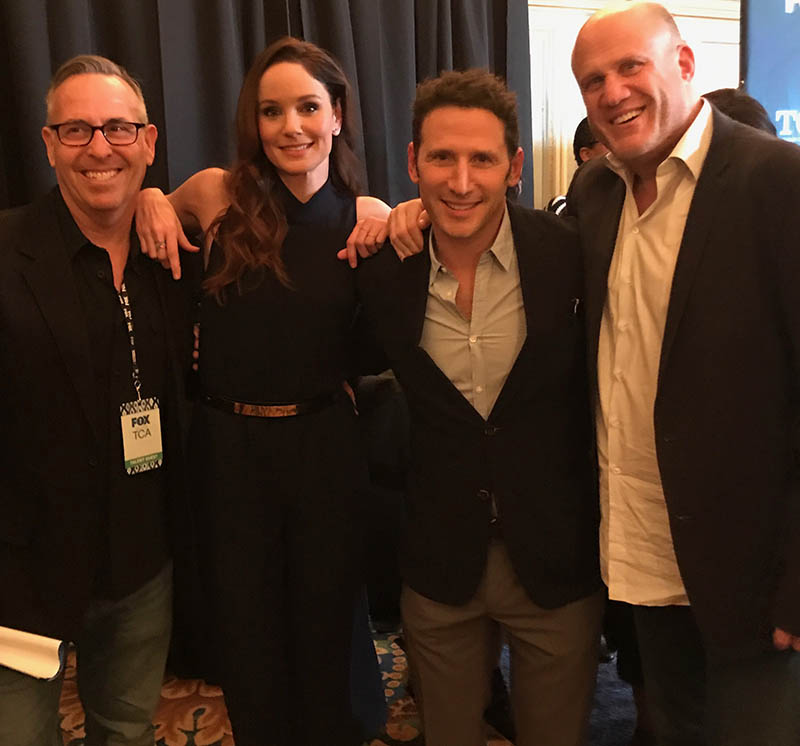 Sarah and Robert Knepper

The days that you put in will add up to something meaningful.
You don't need to have big wins every day for your work to be valuable. All you need is one small victory each day. And if you continue to build small wins on top of other wins, you will eventually achieve a moment of clarity, like the one below. Seeing Sarah overcome with emotion during an interview while talking about her abundance of success is what I work for. It gave me the chills, and in that moment I truly understood what my hard work is building towards. You won't see these moments every day, or even every week, but you should always keep them in mind as the goal that you're working towards – whether helping make these moments happen for a client, or for yourself.
Sarah Wayne Callies on Good Day LA
After a long and fulfilling day of work, I've come to realize that the heart of collective learning is the sharing of information. We share information because it helps us survive. We learn faster. We make better decisions. We accomplish more with less.
Your purpose in life is to find and do things that make you smile, laugh and forget time.
And, in the end…the love you make is equal to the love you take. – John Lennon
I'd love to hear what your "day in the life" is like. Please share in the comments section.
Click to share.
Sharing is caring in 'A Day in the Life of a Manager'. What's your day like? #prisonbreak
Click To Tweet
Just another day in the life in 'A Day in the Life of a Manager' What did u do 2day? #prisonbreak
Click To Tweet