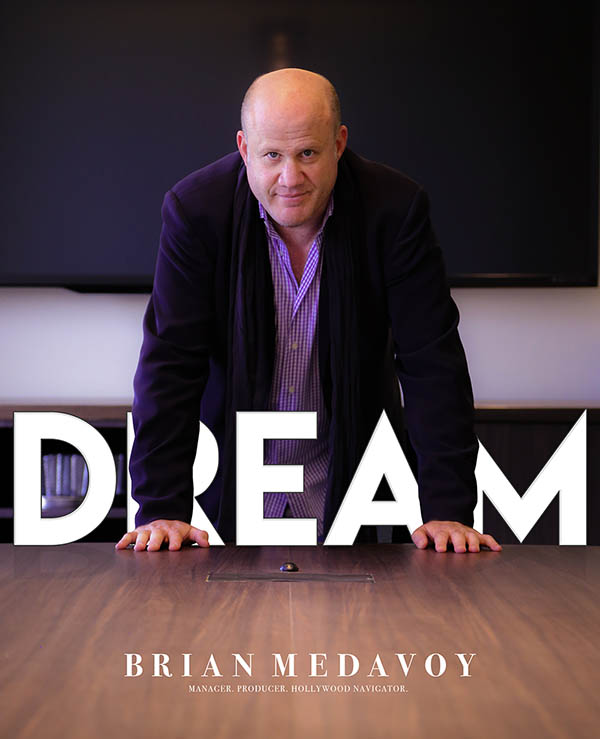 "I've learned that people will forget what you said, people will forget what you did, but people will never forget how you made them feel." – Maya Angelou
Brian Medavoy on Instagram
Brian Medavoy on Facebook
Brian Medavoy on Twitter
Brian Medavoy on Wikipedia
View IMDb Profile
View IMDb Pro Profile
Award-winning producer and manager Brian Medavoy has been in the entertainment business for nearly 25 years. In that time, he has emerged as one of Hollywood's top talent representatives, helping to craft the early careers of actors such as Ryan Reynolds, Tobey Maguire, Josh Brolin, David Schwimmer, Jason Bateman and Maria Bello, among others.
Medavoy began in the mailrooms of CAA and ICM, quickly moving up the ranks to become the assistant to famed talent agent Ed Limato. In 1991, at the age of 23, he partnered with Erwin More to form their own management company, More-Medavoy. The duo handled a roster that included actors, directors and writers from all segments of the entertainment field.
In 1994, Medavoy and More made the move to producing projects for their clients, beginning with the television series "Sweet Justice" starring Cicely Tyson and Melissa Gilbert. Over the next few years, Medavoy produced nine pilots including "The Single Guy," starring Jonathan Silverman for NBC, and "Getting Personal" with Duane Martin for Fox. They also developed the hit ABC comedy "Dharma and Greg" starring Jenna Elfman. This led to the pair signing an exclusive producing deal with 20th Century Television where they later produced "Just Shoot Me," which aired for seven seasons on NBC.
More-Medavoy merged with powerhouse managers Susan Bymel and Evelyn O'Neill in 1999 to form Talent Entertainment Group. Under their combined banner, TEG continued to represent A-list talent while developing film and television projects for their clients. One of those projects, the highly-acclaimed PBS series "American High," garnered Medavoy an Emmy award for Outstanding Non-Fiction Program (Reality). The documentary series followed fourteen students from Highland Park High School in Illinois for one year.
Medavoy took a leave from the entertainment industry and moved to Whitefish, MT in 2005. He returned to Los Angeles in 2008 and formed Medavoy Management the following year. In 2014, he got the band back together and re-partnered with Erwin More to re-launch More/Medavoy Management.
A Los Angeles native, Medavoy has deep roots in the entertainment industry. His father, prolific film producer Mike Medavoy, is the co-founder of Orion Pictures, former chairman of TriStar Pictures and current chairman and CEO of Phoenix Pictures. Brian attended UCLA where he majored in history.
"What you see determines how you interpret the world, which in turn influences what you expect of the world and how you expect the story of your life to unfold." – Sheena Iyengar
NOTE: I've shared a LOT of advice online over the past couple years and the chances are you've missed some information that you might find helpful.
So, I've compiled it all into a free PDF you can download to read at your leisure. You can download it here and feel free to share it with anyone else you think might benefit from it.
Shows Produced